Gita Gopinath, the deputy director of the International Monetary Fund, praised Prime Minister Narendra Modi on Saturday for successfully organizing the two-day G20 Summit in India. On her official X (formerly Twitter) account, she shared a photo of herself with PM Modi.
In a post on X, Gita Gopinath wrote, "Congratulations Prime Minister@narendramodi on presiding over such a successful @g20org. India's message of 'one earth, one family, one future' resonated strongly with all delegates."
She also greeted Prime Minister Modi and President Droupadi Murmu at the 18th G20 Summit dinner, which was held at the Bharat Mandapam Convention Center in New Delhi
In response, PM Modi replied, "Thank you for the kind words. It is an honor to host the G20 Summit. Our efforts are a testament to the collective spirit of unity and progress."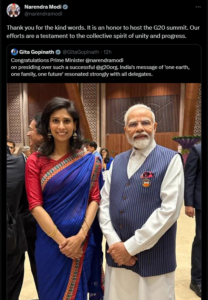 During Ratri Bhoj par Samvad at Bharat Mandapam in the capital, Union Finance Minister Nirmala Sitharaman spoke with the IMF's first Deputy Managing Director, Gita Gopinath.
" @nsitharaman interacts with Ms @GitaGopinath, First Deputy Managing Director of the @IMFNews, at the G20 Dinner hosted by President Smt Droupadi Murmu (@rashtrapatibhvn) at Bharat Mandapam," Sitharaman wrote on X.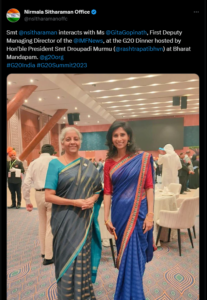 Gopinath also posed with President Murmu at the G20 venue. "Greatly honored to meet President Droupadi Murmu @rashtrapatibhvn whose life story is deeply inspiring", she said in an X post.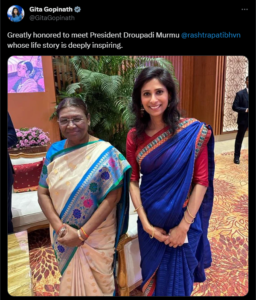 On the opening day of the G20 Summit, which is being held at the Bharat Mandapam Convention Center, Modi on Saturday received the leaders of over 30 nations and organizations, including US President Joe Biden and UK Prime Minister Rishi Sunak.
The first day of the two-day G20 Summit saw a number of significant breakthroughs, including the unveiling of the India-Middle East-Europe Economic Corridor (IECC EC), the formal entry of the African Union into the group, a biofuel alliance, and a unanimous agreement on the Delhi Declaration.
Following the conclusion of the first day's high-level conclave, President of Murmu held a dinner for the G20 group's heads of state with close to 400 guests.
On Sunday, Prime Minister Narendra Modi stated that the G20 Summit's robust conversations would lead to a better world.
A wreath was laid at Delhi's Rajghat in honor of Mahatma Gandhi earlier in the day by Prime Minister Narendra Modi, US President Joe Biden, UK PM Rishi Sunak, Australian PM Anthony Albanese, Canadian PM Justin Trudeau, Russian Foreign Minister Sergey Lavrov, and other heads of state and government and heads of international organizations.
In the meantime, Indian Prime Minister Narendra Modi officially welcomed the African Union as a new member of the G20 on Saturday.
On December 1 of last year, India took over the G20 presidency, and by then, it had scheduled approximately 200 meetings across 60 locations in the nation. The culmination of all G20 processes and talks with ministers, senior officials, and civil society will take place during the 18th G20 Summit in New Delhi.